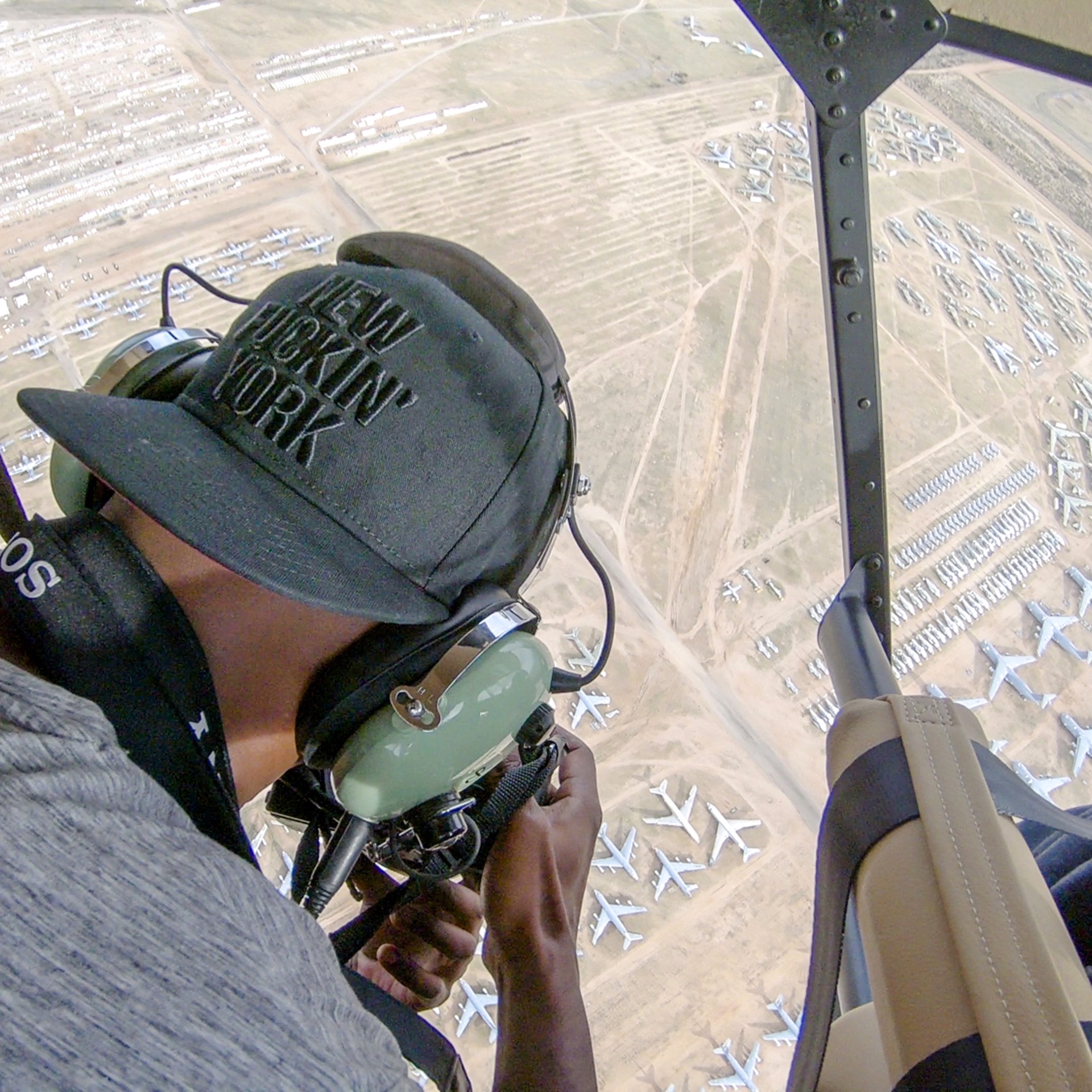 Dinesh Boaz creates a dynamic juxtaposition between the natural landscape and our involvement in it. This fresh perspective is definitely attractive, but also reveals a reflective state which is introspective, as well as contemplative.
Dinesh Boaz explores the area beneath him via a helicopter to achieve a 'top' view. As he states, "By honing-in on the specific details of the earth below, I can highlight . the remoteness and stillness in water, sand and rugged space like terrain, but also connect back to our existence with human form and the life within." Emphasizing lines, colors, shapes and an overall pattern, Boaz's thoughts develop from his musical background. Originally a recording studio owner and music producer in New York City, he combines the visual and performing arts. The artist is able to see musical notes and frequencies as different values of color, or color palettes, on the spectrum. Boaz was born in Chennai, India, graduated with his B.A. from Rutgers University, and in not so many years, has had numerous exhibits, awards and magazine reviews across the United States.
Features and Exhibitions:
Solo Exhibitions:
2020 'Dinesh Boaz: March 7th to April18th. 'Within the Lines', DNJ Gallery, Los Angeles, CA
2019 'Dinesh Boaz: 'At 1000 Ft.' Robin Rice Gallery, NYC.
2019 'Dinesh Boaz: 'Giant Steps' Sorelle Gallery, New Canaan CT.
2019 'Dinesh Boaz: 'In the Wild', W Hotels Group, Fort Lauderdale, FL.
2017: 'Dinesh Boaz: 'Closer' Exhibition & W Hotels Artist Residency, NY
Selected Group Exhibitions:
2020 'Winter Blues', Jan 18th. The Whiteroom Gallery, Bridgehampton, NY
'Climate Changes', March 19th. Ludlow House, NY
2019: Scope Miami Beach 2019 South Beach, Miami (The White Room Gallery)
'Summertime Salon 2019' , Robin Rice Gallery, Manhattan, NY
'Market Arts and Design', (The Whiteroom Gallery) Bridgehampton, NY
'Vantage Point; The Whiteroom Gallery, Bridgehampton NY
'Kips Bay Decorator House, (Sorelle Gallery) Palm Beach, FL
'Common Threads II', Juried Show, Angels , Los Angeles, CA
'What's in your world? Juried Exhibition. LACP, Los Angeles CA
2018: 'Photo Independent Art fair', The REEF, DTLA, Los Angeles., CA
'Pop Art Show', Barker Hangar, Santa Monica, California
Awards:
2019: 'Eyes Wide Shut', Best in Photography discipline: - OUTFRAME awards
2019: 'All of the People' National Geographic Adventure Grand Prize Winner: - National Geo Adventure - Visit Florida photography contest.
2018: 'Warriors on Water' Nominated for LA Center of Photography Award, Los Angeles, CA
Press:
2019: 'PDN Photo of the day: Yoga for your eyeballs', PDN Magazine
https://suitcasemag.com/photo-journals/israel-new-point-view/
'PDN Photo of the day: Desert Isle', PDN Magazine
'Dinesh Boaz: 'A Bird's Eye view' Rutgers University Magazine
'NYC Apartment gets glam makeover', Martha Stewart Magazine
'Striking Balance Book review', Fstop Magazine
2018: 'Bird's Eye View of Beaches around the World' ,Conde' Nast Traveller.
'National Geographic Travel Photographer contest', The Atlantic
'Gorgeous Grey-toned Greenwich Villlage apartment', Homepolish
'Dinesh Boaz: Sky Frame Artist of the Month', Skyframe
2018: 'Where Aerial Photography Meets Fine Art'- Fujifilm feature
2017: 'Dinesh Boaz: 'Eye in the Sky' feature 'Angels Magazine'
'Stunning photos of NYC and Los Angeles from Above', Untapped Cities
Charity Auction Print Donations
2020 Friends Seminary Auction, David Zwirner, NYC
2019 'Venice Arts'- 26th Anniversary Gala, Venice Beach, CA
Children's Museum of the Arts, Fall Gala, NYC
'Toast to the Children' w/Tom Collichio for Children of Bellevue Hospital, NYC
'Tabula Rasa' Watermill Arts Center Exhibition and Benefit, Watermill, NY
Friends Seminary Auction, Phillips Auction House, NYC
Los Angeles Center of Photography Gala, Quixote Studios , Los Angeles, CA.
2018 25th Annual Venice Beach Arts Gala, California, November 3rd 2018
'Toast to the Children' w/Tom Collichio + Uma Thurman for Children of Bellevue, NY
2017 'Time Bomb', Watermill Arts Center Exhibition and Benefit, Watermill, NY
'Within The Lines', March 7th, dnj Gallery, Los Angeles
"Yoga for your eyeballs', PDN Magazine feature
All of the People' takes Grand Prize in National Geographic Adventure Photo
Read More