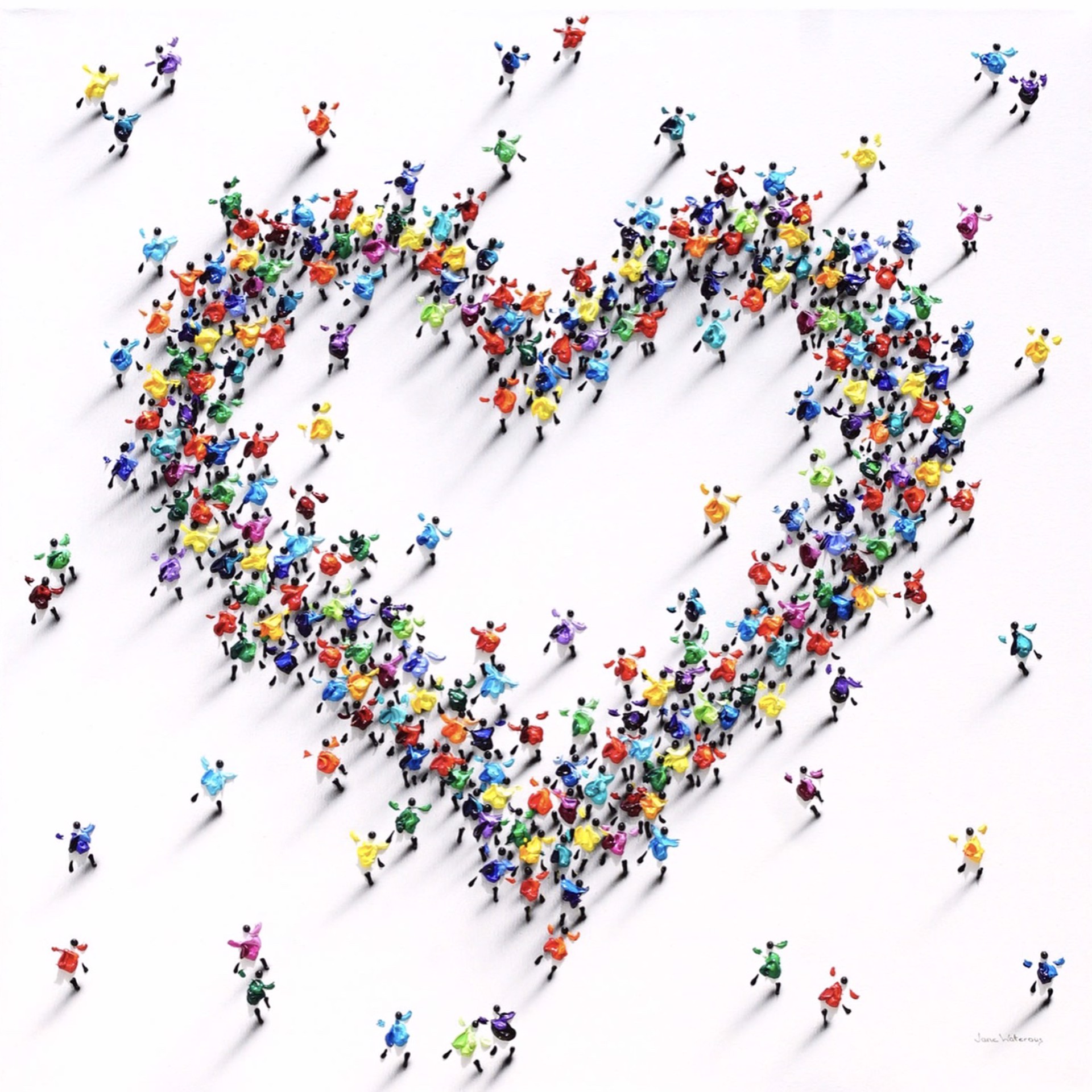 BIOGRAPHY
Born in Canada in 1959, Jane grew up in Brantford, Ontario. To pursue her love of all thing's art, Jane attended Queens University, OCAD University, Sheridan College and New York University where she completed various degrees in art and film. Jane began her career as a creative director in a multimedia firm then moved on to direct, produced and edited short films for Channel 4 UK. These short films would debut in multiple international film festivals. In 1998 Jane left Canada behind and moved to Bahamas, where spending time in the islands with her family fueled her passion and focus for creating contemporary art with themes of Love, Life, Laughter and Family.
Fast forward 20 years and you can expect to see Jane's art spanning an array of mediums and techniques. Jane's Morse Series translate excerpts of stirring speeches, songs and poems into 3-D, light, dark and colorful dots and dashes of the universally recognized Morse Code. Her Into the Blue Series uses highly textural slaps of brilliant blues to fill the sky and sea, the backdrop for children leaping with unbridled freedom. Jane's Resination Series involves a unique, highly technical and yet fanciful application of resin, acrylic and marbles with vibrancy that pushes her love of color and playfulness. Her Harmony Series is inspired by her travels in Asia. They invite the viewer to pause, reflect and explore an inner peace.
Jane is best known for her series: The Gatherings Series. A reflection of human connection, The Gatherings paintings represent an embodiment of three decades of work. The sculpture-like, three dimensional figures appear to dance in a synergistic halo of light, depth, color and action, literally, and figuratively jumping off the canvas. While each work conveys a unique emotional experience, they all share a feeling of joy and wonderment. For Jane, "Everything that matters happens when people come together. Life is a series of Gatherings, that all add up to a life well lived."
For all of her series, Jane takes inspiration from the world around her; from the energetic activity of a New York street, to the peaceful, harmonious calm of a Bahamian beach. Jane proclaims, "The work you see today is the product of past and present experiences, a reflection of the courage it takes to Live, Laugh & Love." A true testament to the themes seen throughout her art.
Jane's art is internationally renowned and collected. Apart from winning the coveted Art Expo NYC Solo Artist Award, her work is shown in numerous international solo art exhibitions, prominently displayed in luxury hotels around the world, can be found in the collections of Fortune 500 Corporations, Royal families and celebrity alike. Jane's capacity to create new and exciting works that emotionally and soulfully touch the audience is unmatched. Throughout her 35-year career, she has not forgotten the themes that brought it all together: Love, Life, Laughter and Family.
Read More