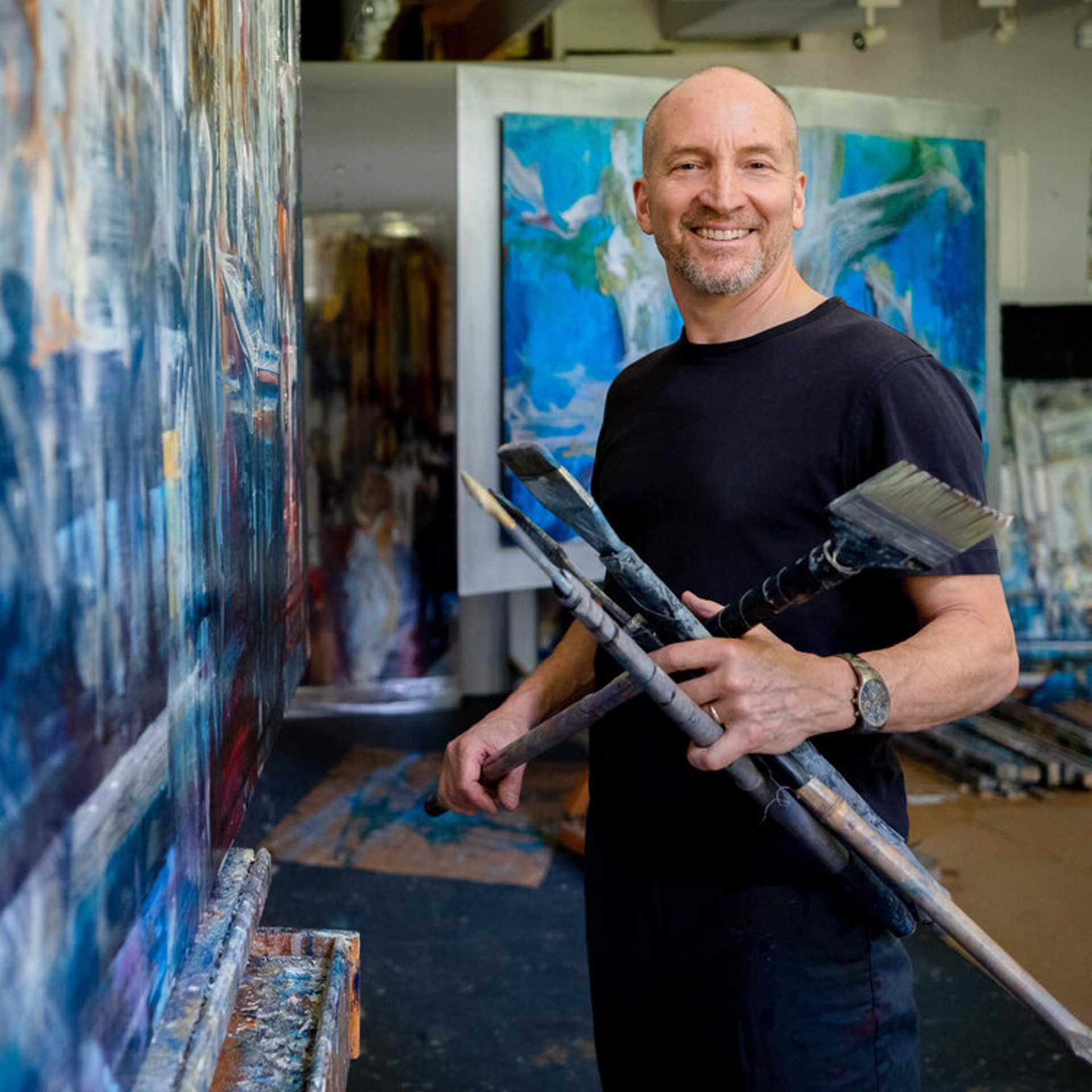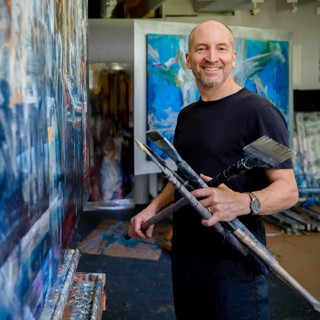 Stuart Yankell's work celebrates life and the common fabric of humanity. Combining abstraction with a kinetic approach rooted in classical lighting and form, he embraces historical convention while seeking to expand the language of art. For nearly four decades, Yankell has painted a multitude of musical and dance forms, as well as figurative themes based on a broad range of universal settings. He has traveled to nearly twenty countries, and his works are developed through a combination of on-site painting, studio work with live models, and the forces of instinct and imagination.
"The goal of Stuart Yankell's work," author William Abrams writes, "is to convey something essential about our existence that is at once both truthful and affirming." Using large brushes attached to bamboo poles, his strokes are broad and visceral, yet at the same time precise. He has long been a student of Asian culture and the Martial and Healing Arts, and has sought to bring something ceremonial to his artisitc process, analogous to a dance or fencing ritual. Moving between realism and abstraction, Yankell's painting is about seeing, depicting both the focus and periphery of natural vision. Seen up close, the works are entirely abstract, undulating with textural variations. At a distance however, the images crystallize and come to life in the mind of the viewer. The art critic Burton Wasserman said "seeing Yankell's paintings with your eyes is to soon feel them refreshing your heart and mind as they produce visions of joy at the center of your being."
Yankell was trained in Philadelphia at the Pennsylvania Academy of the Fine Arts, the University of Pennsylvania and the Frudakis Sculpture Academy. He also studied in Italy at Temple University, and has taught painting and art history at the university level over the course of his career. Yankell is also known for his portraiture, and has been commissioned to paint a variety of business, political and academic figures for public and corporate collections, as well as children and families. Recent collectors in the entertainment industry include Dave Matthews, Carlos Santana, Ravi Coltrane, Natalie Merchant and both Wynton and Branford Marsalis. Stuart Yankell's work has earned place in the vanguard of contemporary figurative painting and has been displayed in museums and galleries throughout the world.
Read More